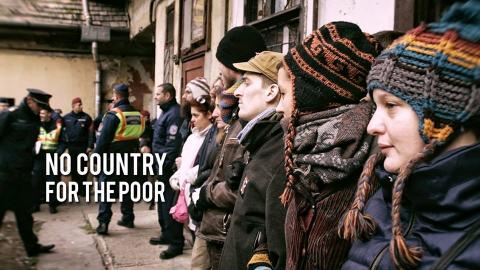 We're starting "Social Screenings" at D-Zona: every second Tuesday evening we'll show films about social movements from different places and dealing with different struggles.
Our first documentary, "No Country for the Poor", comes from Hungary, a country that is often in the media spotlight these days. A country where billboards are covered with governmental advertisements full of antisemitic, racist, and xenophobic images. A country that has built a double fence at the Serbian border and jails refugees who are trying to cross it, declaring itself defender of Chistian-European values. Recently, gender studies departments were closed, Central European University was evicted, and homelessness criminalised. This type of governing has been named illiberal democracy, covering authoritarianism and fascist tendencies, combining discriminatory politics with unbridled capitalism. While defending protectionist politcs, Orban hypocritically and openly greets foreign investments that occupy the center of Budapest and push local inhabitants out because they cannot bear the increased living costs.
What if democracy fails citizens by not serving them all equally? What if inequality becomes the norm and the most vulnerable citizens are left behind with no money, no home, no rights, and no country of their own? In Hungary, the government has slashed social benefits and criminalised homelessness, but a group of activists, homeless and middle class, is confronting authorities to defend social justice and their right to be citizens. A Város Mindenkié (City for All) is fighting against evictions, criminalisation of homelesness, and adequate housing for all. After the tragic death of two of its founding members, the group feels that Hungary is growing more hostile and their struggle is more important than ever. Despite all odds, their own community keeps them going and creating a mini-society with democracy and solidarity at its heart, an island of hope, belonging, and dignity in a society increasingly shifting the other way.
https://www.nocountryforthepoor.com/trailer/
The film will be shown in Hungarian with English subtitles. If you have ideas about what other films could be shown in this series – contact us online or live.