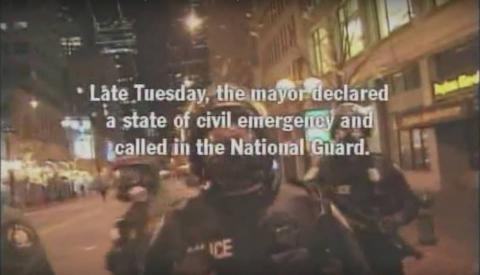 This year marks the 20th anniversary of the "Battle of Seattle": massive protests against the World Trade Organisation and murderous capitalist greed in 1999. The protests, both peaceful and violent, gathered more than 40,000 people and effectively started a tradition of "summit resistance" (as seen in Prague a year later, in London in 2009, or in Hamburg two years ago).
This Tuesday, "Social Screenings" carve out a little time to remember the protests with a documentary "This Is What Democracy Looks Like". The film is unique not only in its content, but also in the way it was made. Footage, filmed by more than a hundred amateur camera operators, was edited into a documentary that sees the days of violence from the side of those who protested the WTO's power to arbitrally overrule local environmental, social and labour policies around the world in favour of corporate interest.
The film will be shown in English. If you have ideas about what other films could be shown in this series – contact us online or live.